Water treatment for cooling towers
The Treasure © device can physically modify the properties of the water that circulates in the system, thereby helping to increase the efficiency of the cooling process.
Treasure ©
Water treatment for cooling towers
Water cooling is the most common method of cooling power equipment (especially turbines in power plants). Water circulates in systems where cools equipment, which means water transfers cold and receives heat. After that travels to the cooling tower, where it cools down again. Do you wonder how can Treasure © help in this case? Treasure © for supramolecular liquid treatment changes the supramolecular structures of coolant, water in this case, which then acquires improved properties guaranteeing faster cooling compared to conventional water. Treasure © device (or several devices) is installed on the supply line and/or directly before spraying on the cooling towers. To increase efficiency, we also install the devices directly in the tank/pool below the tower in front of the pumps. The solution has the advantage of increasing the cooling water temperature difference and eliminating the formation of algae, microorganisms, bacteria and viruses, thereby increasing cooling efficiency and reducing maintenance costs.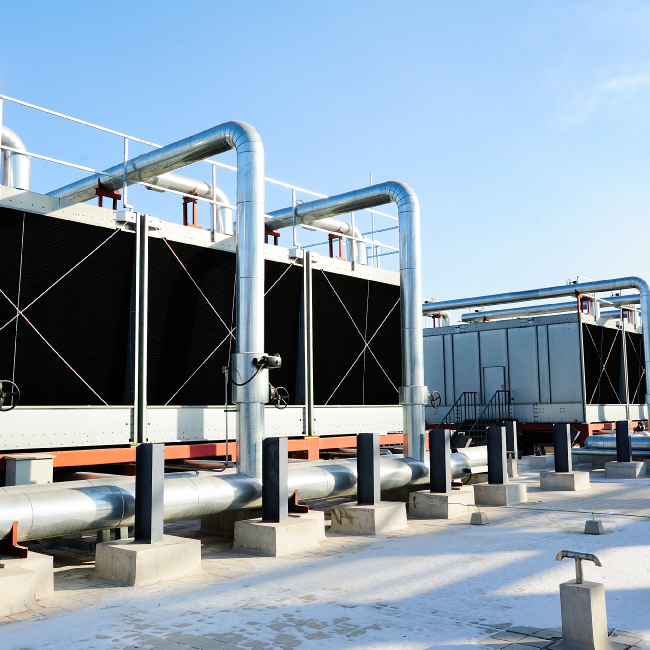 1. Installation
of equipment on the piping system.

2. Supramolecular water treatment.


4. Guaranteed energy savings at least 15%.
Considering that, in most cases, it is necessary to operate all cooling fans when set up correctly, then another technical solution that generates savings is the treatment of the water viscosity. The treated water is more fluid as a result and produces smaller droplets that cool faster during the nozzle cooling process.


Cooling and heating using the temperature from the ground
In some cases, the temperature below the earth´s surface is used to heat or cool a liquid. The reason is a relatively constant temperature at a depth of about 2-3 meters compared to the temperature above the earth´s surface. Treasure © technology treats the water so that it can better absorb cold or heat. In practice, this means that the treated water is cooled or heated up to 5
°C

up or down compared to common water. At the same time, the water maintains the acquired temperature unchanged until it enters the heating or cooling media. Within refrigeration, the technology brings advantages in freezing and refrigeration, e. g. for food storage in factory and hall environment, where it can generate a minimum saving of 15% on cooling energy consumption.